Standards-based Curriculum Development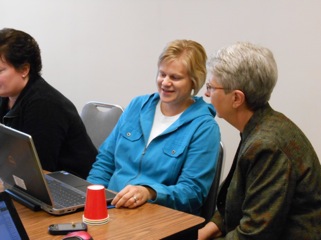 Leading the work of a district music department through three program improvement cycles, Segue's lead consultant Wendy Barden has learned many lessons. She is experienced at each stage of the cycle – development, implementation, measurement – and ready to partner with you.
Standards-based curriculum development, implementation, and measurement require multiple components such as:
Mission and core values of the music department aligned with district mission
Detailed K-12 scope and sequence of skills and concepts
Shared instructional strategies
Common formative and summative assessments in each marking period for each course
Common performance rubrics and standardized grading scales for all common summative assessments
Collaboratively scored performance assessments and data analysis
Implementation survey and classroom walk-throughs
Refreshed district-wide resources
Dr. Barden has worked with teams of teachers to develop and implement standards-based music courses including:
Classroom/Vocal Music (grades K-6)
Music Around Us (grade 7)
World Music (grades 8-9)
Band (grades 5-12)
Orchestra (grades 3-12)
Choir (grades 7-12)
Jazz Ensemble (grades 10-12)
Beginning Guitar (grades 10-12)
Garage Band (grades 10-12)
Music Theory (grades 10-12)
History of America's Music (grades 10-12)
Music of Social Change (grades 10-12)
Solo Performance Studio (grades 10-12)
International Baccalaureate (IB) Middle Years Programme Music (grades 7-10)
IB Diploma Programme Music SL (grade 11)
Contact us to learn more about partnering with Wendy Barden and how to bring her experience and expertise to your curriculum development needs.